Massages and treatments: your time out at the Zugspitz Resort
Pampering, relaxation and regeneration
Clear your mind, let yourself go and lose yourself in an endless feeling of well-being: experience relaxation in its most wonderful form with our massages and body treatments. Make tension a thing of the past and recharge your batteries. Our pampering treatments rapidly regenerate your mind and body.
Pampering packages
Fragrant herb salt bath
Fruit platter, spring water and 2 glasses of sparkling wine
2x aroma oil - full body massages
Price for 2 persons
Massages
boosts circulation · relaxing · tension-relieving

Soothing strokes and massage techniques are applied to relieve muscle tension and boost the metabolism and blood flow.
aromas · spirit · soul

The body is massaged with soothing strokes, based on warm natural oils.
boosts circulation · relaxing

prevents muscle cramp

The muscles are activated, relaxed and revitalised with a sports massage to soothe stressed muscles after sport, a mountain tour or an active day.
Extra services:
Cupping: €12.00
Taping: 12,00 €
energetic · restorative
Feel the warm oil on your skin as it unfolds its effects during a relaxing massage. Leave your everyday life behind and feel the energy flowing through your body.
frees the mind · balancing

This soothing treatment relaxes the whole body, stimulates the parasympathetic nervous system and has a positive effect on the body, mind and soul. A fascinating combination of massage, energy work and the soothing effect of warm stones.
Treat for all the senses
A full body massage with lots of oil enriched with various herbs. The focus is on flowing and gentle movements that help to relax the body and mind. Ayurvedic massage has a positive effect on the muscles, tendons and ligaments, as these are loosened by the massage.
The time listed also includes a rest period.
Bookable after recent joint surgeries or acute water retention, e.g. during pregnancy.nsation of heavy legs, fasting diets, and burn out. It's pure relaxation for the body and the face! Please do not have a sauna before this treatment!
Is a face-head-neck massage with small forehead oil pouring. This calms the entire autonomic nervous system, harmonizes and balances. Best suited for insomnia, headaches and for lowering blood pressure. Alsobeneficialduring pregnancy, as themassage isperformed purely in the supine position. Immediately before, one should pursue a strengthening & circulatory activity, such as swimming, hiking or skiing!
The time listed also includes a rest period.
This technique is a relaxing pressure point massage to stimulate the reflex zones on the foot.
Body treatments
warming · calming · relaxing

The warm ingredients of the compress help to relax and loosen the muscles.
~ 25 min | 45,00 €
~ 50 min with partial massage | 84,00 €
aroma · mountain experience

The aromatic and beneficial Tyrolean herbs help to relax the muscles, body, spirit and soul.
~ 25 min | 45,00 €
~ 50 min with partial massage | 84,00 €
The skin is vitalised by the oil-sea salt combination and dead skin cells are gently removed.
The peeling with coffee promotes cell renewal and stimulates the blood circulation.
Feel-good baths
Stimulating for the metabolism and a well-known recipe for the care of skin and hair.
The soothing ingredients of herbs pamper body and mind with a delicate fragrance.
Swiss stone pine oil has been known as a natural remedy for a long time. It allows deep relaxation, strengthens body and mind and relieves the circulation.
Recommended for: Concentration problems, mental exhaustion and insomnia.
Cosmetics
Our Alpienne cleansing milk or tonic prepares the skin to better absorb the subsequent products. Through the coordinated massage movements and pressure points, we stimulate the lymphatic flow, so that harmful substances are removed from the tissue. Finally, the regenerating face pack is worked in with gentle strokes and you can rest for a while. Inclusive Relaxation time.
Eyebrows
Eyebrow correction | 12,00 €
Hands & Feet
Pedicure | ~ 50 min | 55,00 €
De Luxe pedicure wit polish | ~ 70 min | 75,00 €
Wellness for kids and teens
We pamper your loved ones with a wonderfully fragrant chocolate-oil during this calm and very relaxing massage.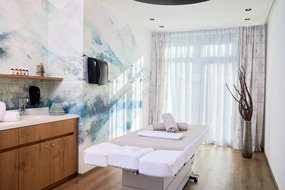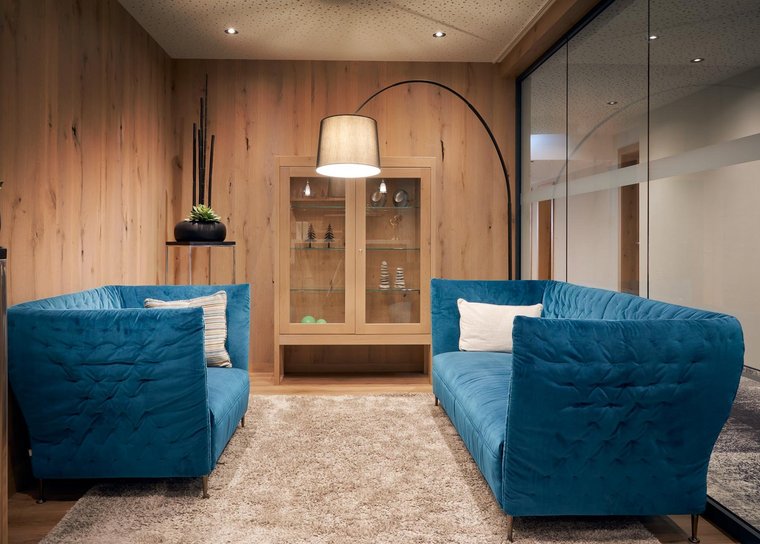 Important information:
Appointments
We recommend you book any appointments prior to your arrival at welcome@zugspitz-resort.at or on +43 5673 2309 or at reception.
Cancellation
Appointments must be cancelled no later than 5:00 p.m. on the day before the treatment. Please understand that the full amount for your treatment will be charged in the event of non-compliance with our terms of cancellation.
Payment
The treatments will be charged directly to your room. Naturally, all treatments can also be paid in cash, debit card or credit card.
Take your time
Ideally, it is best to arrive a few minutes prior to your appointment. Please wear your wellness bathrobe. We suggest the use of soothing aromas and meditation music to help set the mood. You are welcome to enjoy a glass of our Ehrwald mountain water after any treatment. In any event, we highly recommend that you take your time after any treatment to let the mental and physical effects optimally sink in.
Treatments for children
For more information on wellness treatments for children, please contact the SPA reception desk.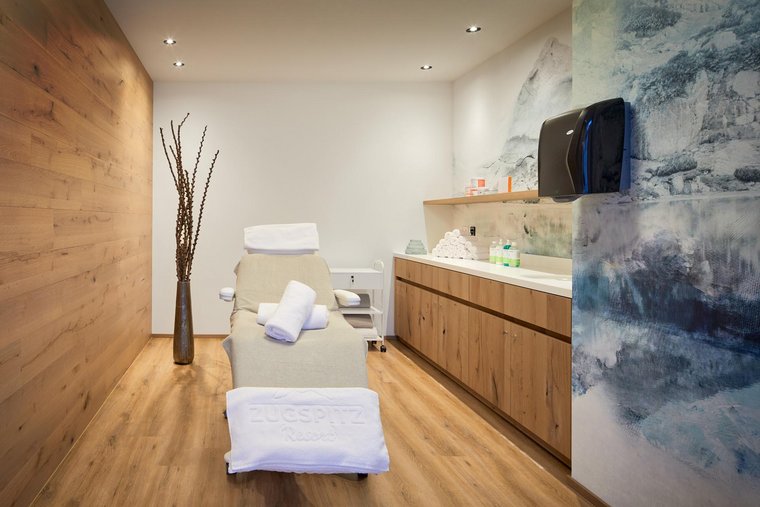 Spa-Etiquette
The spa area is a place of relaxation We would therefore ask all guests to keep this in mind and to remain calm and quiet in this area.
Please note that the entire sauna area is a clothing-free zone. Children under 16 are not permitted in the sauna area! There is a separate non-nude sauna and steam room and a chill-out room for families.
Please leave your jewellery, watches and other valuables in your room, camper van or in the small lockers during all treatments. We cannot be held responsible for valuables.
Please appear on time for your treatment.
Please inform the spa team about any health conditions you have such as allergies or any accidents or injuries sustained, which may restrict the nature of any treatments received or the use of the spa area.
Massages for mums-to-be, children and teens will be tailored to individual needs after consultation with our masseuse.