The 4-star resort at a glance
Holiday at the foot of the Zugspitze
The Zugspitz Resort re-opened in December 2019 with a host of new services.
The extensive refurbishment of our facilities began in March 2019, and we were ready to show ourselves to the world in all our glory in December 2019. Since the start of the winter season 2019/2020, our guests have had additional services at their disposal, for even greater comfort in our 4-star holiday resort. As the family hotel in Tyrol, we now offer even more adventures, fun and games especially for our younger guests. A wonderful time for all the family at the foot of the Zugspitze and an unforgettable holiday in Tyrol!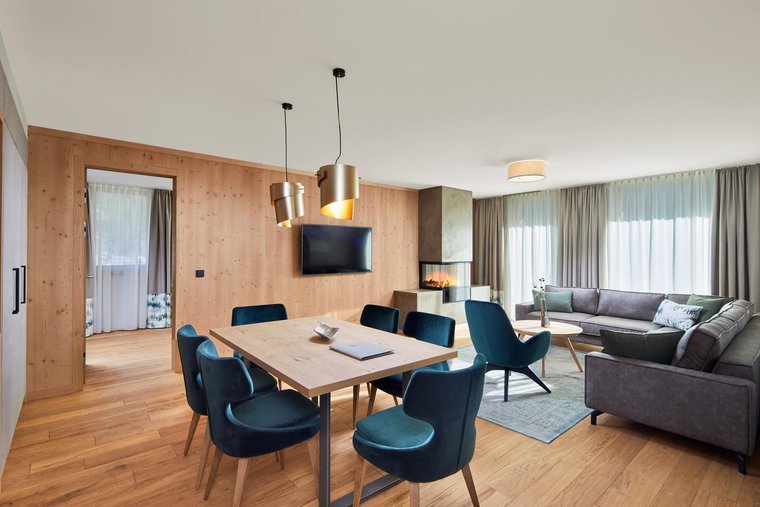 Accommodation that suits you
Hotel****S & Camping*****
47 new rooms and suites in our new wing opened in December 2019 and offer modern-day comfort in traditional alpine design. In addition to the junior suites with separate lounge and sleeping area and the family suites with a separate children's room, our guests may also choose from rooftop rooms as well as two rooftop suites for a truly unique stay.
Our apartments furnished in Tyrolean country house style sleep up to six and offer spacious rooms as well as a fully equipped kitchen, for a relaxed holiday at your own pace.
If you would like to spend your holiday close to nature, opt for a stay at our 5-star campground, which is open year-round and offers 150 spaces. A bath house with 15 private bathrooms as well as 20 refurbished bathrooms in the main building ensure maximum comfort for your camping holiday. All camping guests are free to use the amenities of the hotel resort: pools, 1,500 m² XXXL play and water worlds, water slides, cinema, children's club, restaurants and sun terrace (extra charges may apply). The perfect way of linking *****camping with the amenities of a family adventure resort!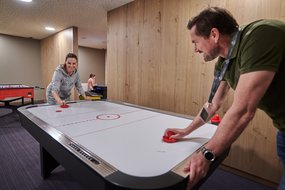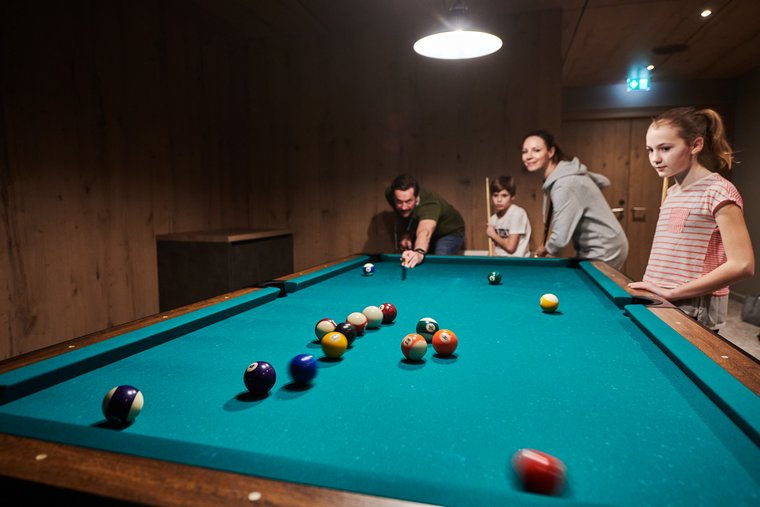 Your family holiday at the Zugspitz Resort, Tyrol
Playing and exploring
The 4*-Superior Zugspitz Resort in Tyrol is a one-of-a-kind location for your family holiday in Tyrol, with a host of attractions that make a stay in this family-friendly setting a truly memorable experience for families with children: In the new indoor adventure world that stretches over two floors on 700 m², young adventurers will find a softplay area, a kart track with electric karts, a boulder wall as well as a cinema and theatre room. A recreation room for older kids comes with tabletop football, air hockey table and gaming consoles, and there is even a separate snooker room.
DIDIs Kinderclub, our childcare centre, welcomes little guests from the age of three. From 9am until 9pm, kids will be entertained with arts and craft, games and outdoor adventures. In addition to a playhouse, play kitchen, mini tabletop football and magic-touch walls with interactive games, there is also a toddler softplay area, play corner and a separate room for naps. The perfect way to ensure that everyone gets the chance to unwind during their family holiday at the Zugspitz Resort in Tyrol!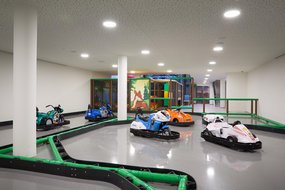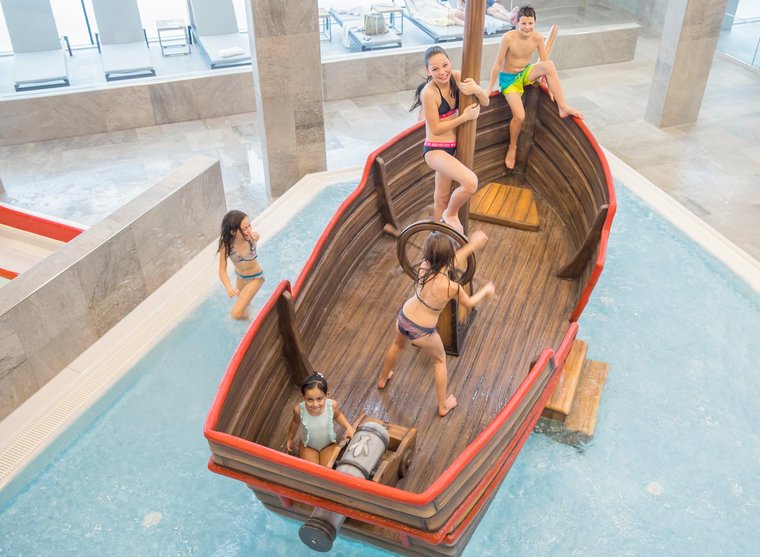 Indoors & outdoors at the family hotel Zugspitz Resort
Adventures for all the family
Families come first in the family-friendly Zugspitz Resort – and there is so much to see and do for all age groups during a family holiday in Tyrol! The resort comes with an adventure playground, a trampoline and a pedal kart track as well as a 10,000 m² garden where outdoor enthusiasts and families can really let off steam.
Another highlight is the family and children's resort with the children's water world that includes an adventure pool, pirate ship, water slide paradise with five slides – one of them a dual-lane racing slide with a length of 120 metres – a baby pool and a heated outdoor pool for children. Adventures galore, all to be had at the Zugspitz Resort with water slides in Tyrol!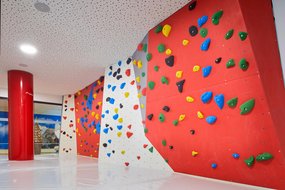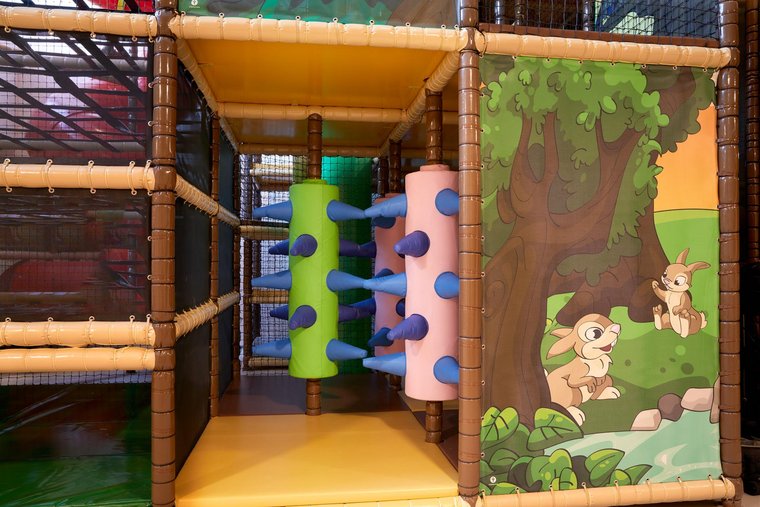 Relaxation for everyone
A chilled-out family holiday in Tyrol
Relaxation is an integral part of a family holiday in the Tyrolean Zugspitz Arena, and our wellness area also welcomes young guests. Families will rejoice at a separate wellness area with a family sauna, steam bath and rest area. After an active day in the resort and in the Tyrolean Zugspitz Arena, children and adults can enjoy some head-to-toe relaxation – the ideal way to prepare for yet another day of unadulterated family fun in Tyrol!
In addition, adults are free to use the separate adults-only spa or the brand-new fitness lounge.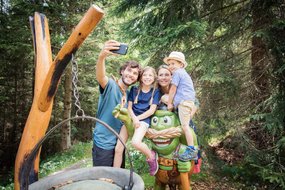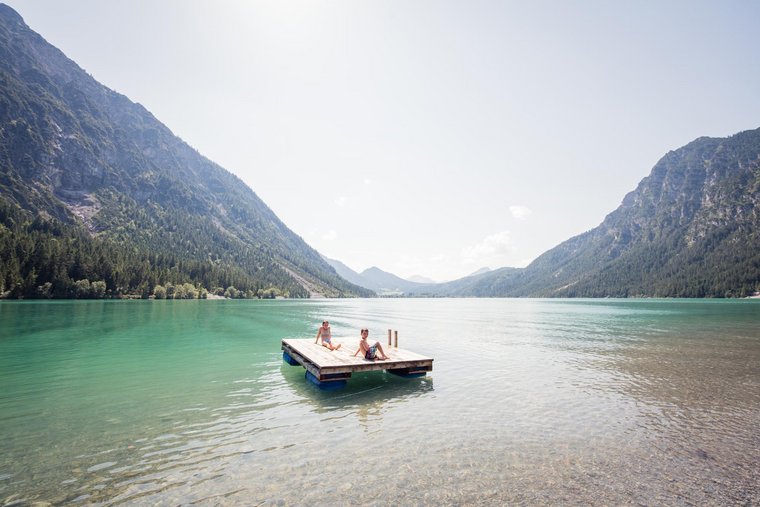 EXPERIENCE THE ZUGSPITZ
Discover the many facets of the Tyrolean Zugspitz Arena
The Zugspitz Resort lies at the heart of the natural paradise that is the Tyrolean Zugspitz Arena. More than 300 km of hiking trails, 150 hiking routes, more than 100 bike routes and family cycling trails as well as numerous farmed dairy pastures make the perfect offer for nature enthusiasts and families keen to explore the Alps. Guided hikes – including hikes especially for families – are on offer five times a week. Guided bike tours are held twice a week.
In winter, family-friendly ski resorts await with 213 expertly groomed pistes, 87 lift facilities, a snow park, fun slope, family park and much more. Away from the pistes, a host of winter sports activities, from cross-country skiing to snowshoe hiking, ensure active fun in the snow. Both in summer and in winter, our resort offers a comprehensive rental service for sports and leisure equipment. From bicycles, e-bikes, Vespas and hiking gear in summer to toboggans and snowshoes in winter, as well as a year-round stroller rental, we have the right piece of equipment for everyone.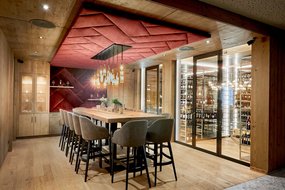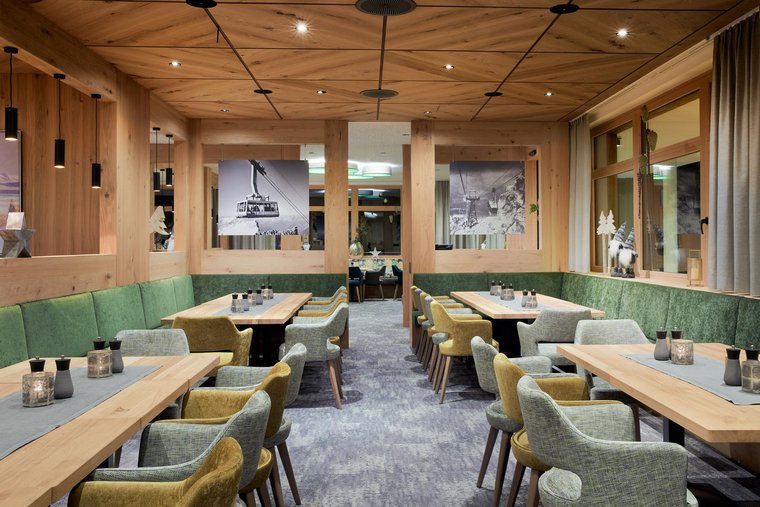 Culinary highlights for all the family
Indulgence
When it comes to food and drink, the Zugspitz Resort again focuses on making everyone happy. Our gourmet half-board contains a generous breakfast buffet with a separate children's buffet, an afternoon cake buffet and theme buffets with front cooking in the evening. Diners in our à la carte Stube can enjoy traditional Tyrolean specialties, prepared with regionally sourced ingredients. All our restaurant facilities are subject to the new Zugspitz Hygiene Plus guidelines, which we have customised to suit the needs of families in particular.
Especially for camping guests, we also offer a takeaway service. However, we recommend sampling our Tyrolean delights on our sun-drenched terrace that faces east, south and west and whose splendid views of the Zugspitze and generous adventure playground also attract day guests.
The hotel shop also offers additional services such as a fresh roll delivery and much more.
For a convivial evening in good company, head for the new, spacious lounge area with views of the Zugspitze. In the wine lounge, tastings of selected vintages take place on a regular basis. If you would like to savour a good cigar, our new cigar lounge is the place for you.
During the operating hours of the cable car, the panorama summit restaurant on the Zugspitze welcomes hungry mountaineers. The resort also operates a shop where guests may purchase daily necessities such as fresh rolls, drinks, snacks, newspapers and other items.