An overview of the Zugspitz Resort campground
Highlights at a glance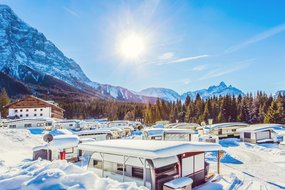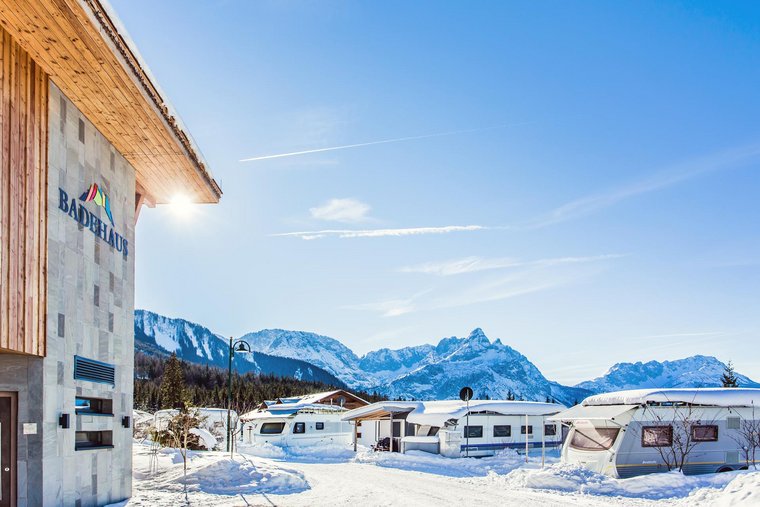 Your 5-star campground in Ehrwald
GLAMPING IN TYROL
As a guest on our campsite, you may enjoy all the amenities of the adjacent 4-Star Superior Zugspitz Resort. For a holiday in unspoilt nature and with that certain luxurious something – in a word, glamping! No matter whether you opt for a Standard or Comfort site, you are guaranteed amazing views of the surrounding mountains, wide open spaces, and fresh mountain air all year round.
Wining & dining
The resort places great emphasis on wining & dining. Discover its welcoming restaurants, the sun terrace, bar & lounge, and the special treat that is the Panorama summit restaurant.
ACTIVITY & vitality world
For an equal dose of relaxation, fun, and action for the whole family, head to our 1,500 m² play and water world and to the Family SPA. And while the kids make a splash in the pool, the adults are free to enjoy our relaxation worlds.
An action-packed holiday
For an unforgettable family holiday with lots of exciting adventures and new experiences, you can't beat our family activity programme.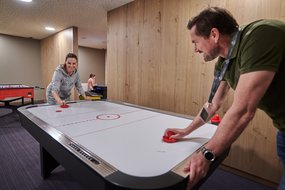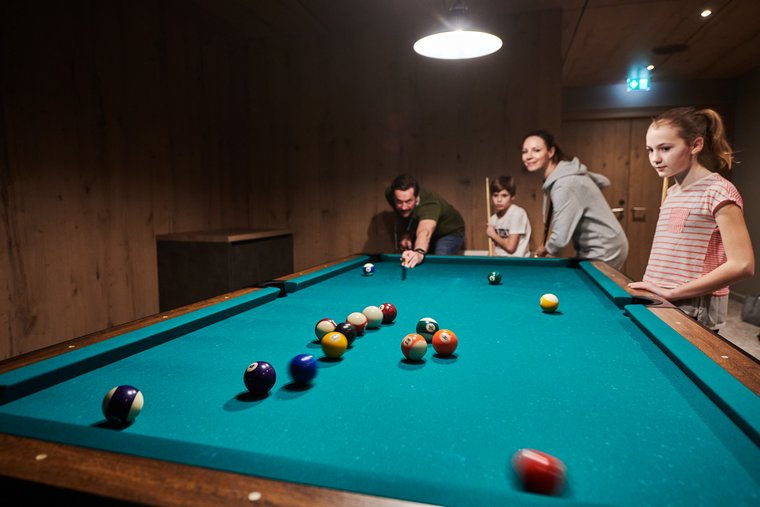 Your family holiday at the Zugspitz Resort, Tyrol
Playing and exploring
The 4*-Superior Zugspitz Resort in Tyrol is a one-of-a-kind location for your family holiday in Tyrol, with a host of attractions that make a stay in this family-friendly setting a truly memorable experience for families with children: In the new indoor adventure world that stretches over two floors on 700 m², young adventurers will find a softplay area, a kart track with electric karts, a boulder wall as well as a cinema and theatre room. A recreation room for older kids comes with tabletop football, air hockey table and gaming consoles, and there is even a separate snooker room.
DIDIs Kinderclub, our childcare centre, welcomes little guests from the age of three. From 9am until 9pm, kids will be entertained with arts and craft, games and outdoor adventures. In addition to a playhouse, play kitchen, mini tabletop football and magic-touch walls with interactive games, there is also a toddler softplay area, play corner and a separate room for naps. The perfect way to ensure that everyone gets the chance to unwind during their family holiday at the Zugspitz Resort in Tyrol!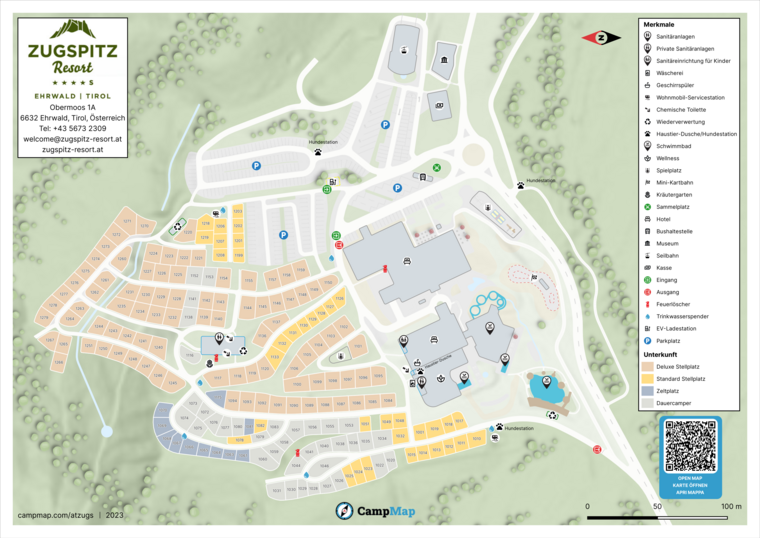 The site plan of our campground for download
TO HELP YOU FIND YOUR WAY AROUND...
we have drawn up a site plan of our amazing 5-star campground. That way, you can see all the information you need at a glance. The plan contains all the site numbers and categories, as well as all the important facilities such as the bathhouse, sanitary facilities, water supply points, waste disposal points etc, all of which are clearly marked.
You will receive your site plan for the Zugspitz Resort campground at reception upon your arrival. We will also show you how to get to your site from the entrance. To give you an overview of where everything is, download your PDF site map here. If you have any questions, don't hesitate to get in touch.
Book your favourite site at the foot of the Zugspitze now and start looking forward to a comfortable, luxurious 5-star camping holiday with all the trimmings here in Ehrwald!