An overview of the Zugspitz Resort campground
Highlights at a glance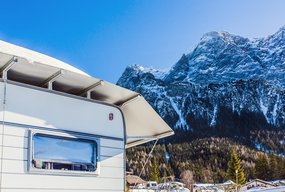 Your 5-star campground in Ehrwald
To help you find your way around...
we have drawn up a site plan of our amazing 5-star campground. That way, you can see all the information you need at a glance. The plan lists all site numbers and categories as well as important facilities such as the bath house, sanitary facilities, water supply points, waste disposal points etc, all of which are clearly marked.
The site plan of our campground for download
Your site plan for your holiday
You will receive your site plan for the Zugspitz Resort campground at reception upon your arrival. We will also show you how to get to your site from the entrance. You would like to get an idea of the facilities before you get here? We are happy to oblige! A pdf file of the site plan in German language is available for download below. If you have any questions, don't hesitate to get in touch.

Book your favourite site at the foot of the Zugspitze now and start looking forward to a luxurious camping holiday with all the trimmings here in Ehrwald!