Hiking in the Zugspitze region around Ehrwald
Hiking holidays on the Zugspitze massif in Tyrol
At the Zugspitz Resort, a hiking paradise in a class of its own awaits you. More than 300 kilometres of hiking trails and Nordic walking routes, plus 90 well signposted hiking routes at all levels of difficulty, lead through the Zugspitze region and invite you to enjoy leisurely, or sometimes challenging, hikes through the lovely natural scenery of the Tyrolean mountain world. And no matter where your feet take you, you can find time to catch your breath and enjoy ample refreshments at one of the numerous alpine farms and hospitable chalets.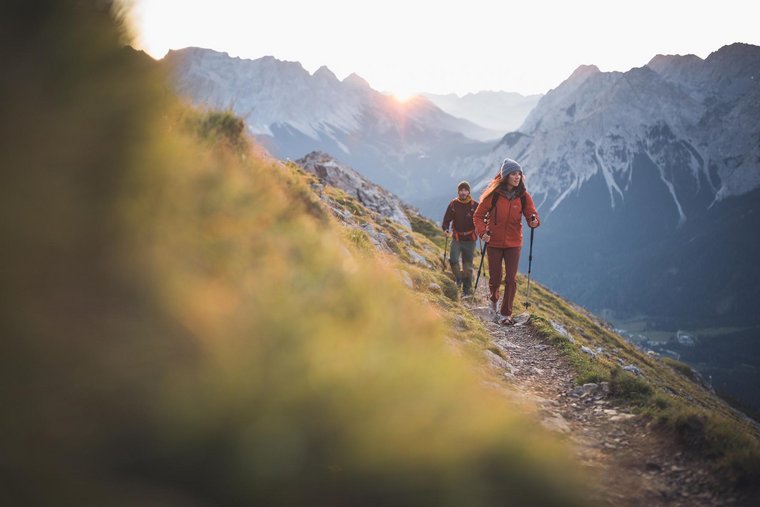 Restorative nature
Hiking in the Tyrolean Zugspitz Arena
On holiday at the Zugspitz Resort you are just a few steps away from the valley station of the Tiroler Zugspitzbahn cable car, which will take you to the top of the highest mountain in Germany, the Zugspitze (2,962 m). Here a breathtaking panoramic view of 4 countries awaits you. After a fascinating round tour, it's a good idea to have a rest in the Panorama Summit Restaurant, where you can enjoy both the delicious cuisine and the loveliest view in Tyrol. And before you travel back down to the valley again with the Tiroler Zugspitzbahn cable car, there is sure to be time for a visit to the "Faszination Zugspitze" interactive museum.
Hike to the Zugspitze from Ehrwald (difficult)
The Zugspitze can also be climbed on foot via various hiking routes. One of the loveliest mountain tours leads to the Zugspitze from the valley station of the Tiroler Zugspitzbahn cable car. You climb the Zugspitze through the forest and a fantastically beautiful rocky landscape with a wonderful view of the surrounding mountain world.
Hiking through the Tyrolean alpine world
If you like to take things a little more easily, there are many other tempting hiking routes on the Ehrwalder Alm and around the neighbouring towns of Lermoos and Biberwier. Beautiful viewpoints, crystal-clear mountain lakes and typically Tyrolean farm restaurants and chalets entice you to relaxation and enjoyment in the open air. Overall the Tyrolean Zugspitz Arena offers a wide selection of hiking options with more than 300 kilometres of well signposted hiking routes.
On numerous alpine pastures and chalets you can not only enjoy traditional Tyrolean hospitality and local titbits, but if your hike takes you via several chalets you can also acquire one of the sought-after hiking pins.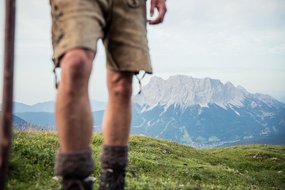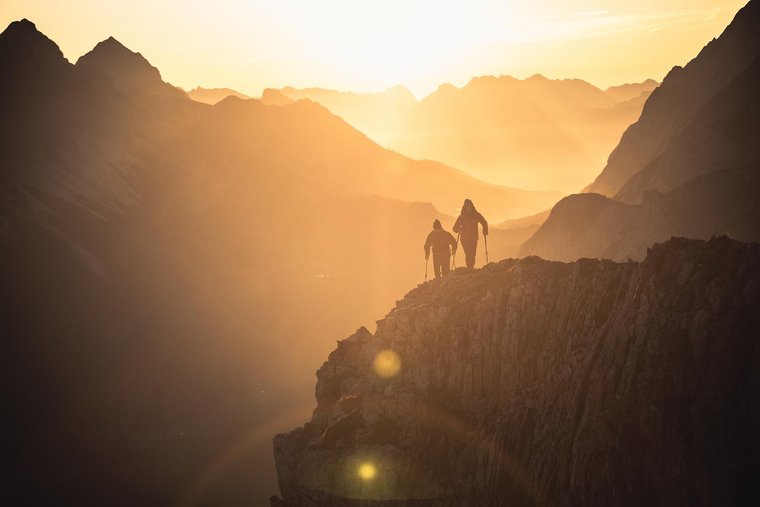 Guided hikes
In the Zugspitz Arena
Guided hikes for connoisseurs, passionate hikers and summiteers in the Zugspitz Arena.
Five times a week keen hikers also have the option of exploring the mountain world around the Zugspitze together with a professional mountain guide from Bergsport TOTAL. In three groups of different abilities, you will hike through the loveliest places in the region and learn many interesting facts about the most beautiful summit in Tyrol and the natural spectacles surrounding. Experience Tyrol as you have never seen it before, and dip into the fascinating natural world of the Zugspitze.