Aktive Mile Lermoos-Ehrwald
ENJOY SPORT OUTDOORS
Sport is essential for body and mind – these days this concept is even more pertinent. Hence the reason why fitness centres enjoyed great popularity for years. In the summer however, the natural surroundings tempt those who are keen to enjoy some exercise to get outside. After all, sport in the fresh air really is good for you, especially when there is a wonderful mountain panorama to take in. Everything that is good makes a reappearance at some time, and so it is that the Fitness Trail is celebrating its big comeback. Climbing, swinging and balancing - all that and much more is now available for all ages at a total of 19 stations (incl. a Callisthenics area) on the Active Mile Lermoos-Ehrwald. Signage explains how to use the equipment and, depending on your fitness level, exercises can be specifically adapted to suit your needs.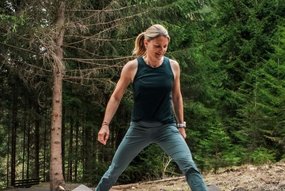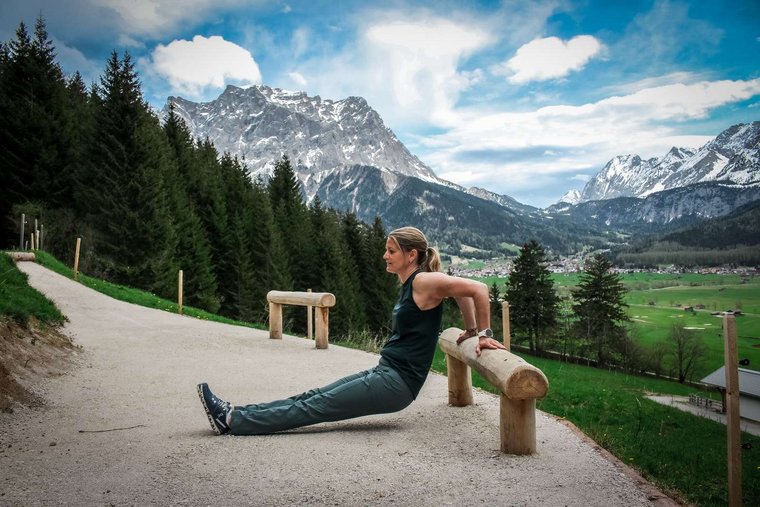 Calisthenics
TRAIN USING YOUR OWN BODY WEIGHT
The idea for the Active Mile came from Co-ordination Trainer and Callisthenics experts from the Austrian Ski Association. But what does this strange term actually mean? Callisthenics (Greek 'beautiful strength') describes training using your own body weight. Around the turn of the millennium, the trend of enjoying sport together in public parks came about in New York. Classic equipment was renounced and instead, bars, pull-up bars and beams were used as equipment. The aim here was to promote body control and movement by taxing all the muscles in the body.
Tip: Every Friday from 10:00 there is an opportunity to train on the Active Mile in a small group, supervised by a professional CrossFit trainer.
Bookable via Lermoos Tourist Office, and free with your Guest Card. Duration: 2-3 hours. Register by Thursday 17:00.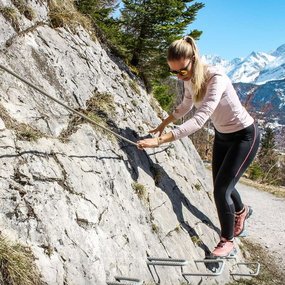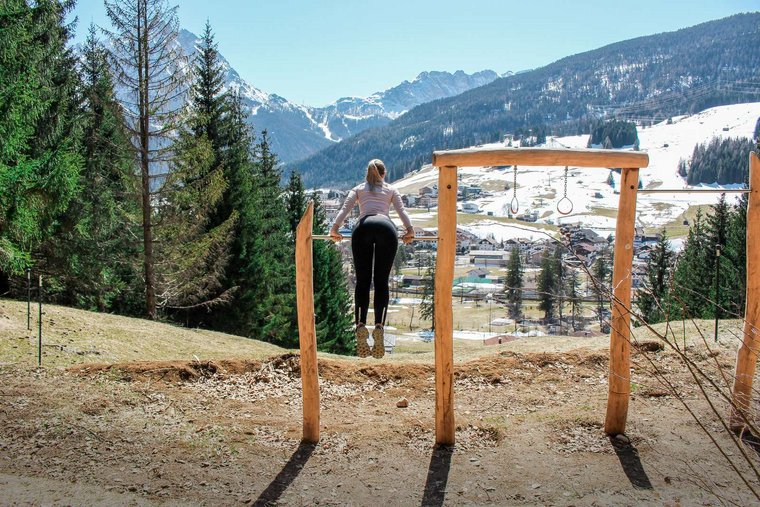 Route Outline
1 CIRCUIT, 2 VILLAGES, 6 KILOMETRES, 18 STATIONS, 1000 OPPORTUNITIES
The starting point for the path is at the fish farm in Lermoos. From there, proceed over the railway crossing and the railway path heading to Reutte, along the Panoramaweg to Ehrwald. The Callisthenics facility is the end of the route. Here, as well as the training equipment, there are also loungers & seating options available, along with a WC. A path proceeds back to the starting point, heading along the Lussbach. The path can also be tackled in the opposite direction.
Stations in key sections:
Climbing station (railway crossing)
Hang route (railway path to Reutte)
Balance route (railway path to Reutte)
Wobble beams (Panoramaweg to Ehrwald to Station 18)
Horizontal bar-Ring combi
Press-ups
Wobble boards
Slalom jump
Diagonal balance and jump boards
Wood bars
Floor grid
Balance rope
Slackline
Sit-ups
Fixed-rope route
Back trainer
Press equipment
Climbing wall
Callisthenics facility (accessible from the end of the Active Mile at the railway viaduct in Ehrwald, over the run route or direct from Ehrwald and Biberwier via Mooswege)