Interactive museum on the Zugspitze
Faszination Zugspitze: an interactive world with a terrific view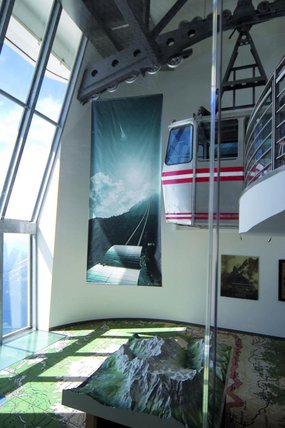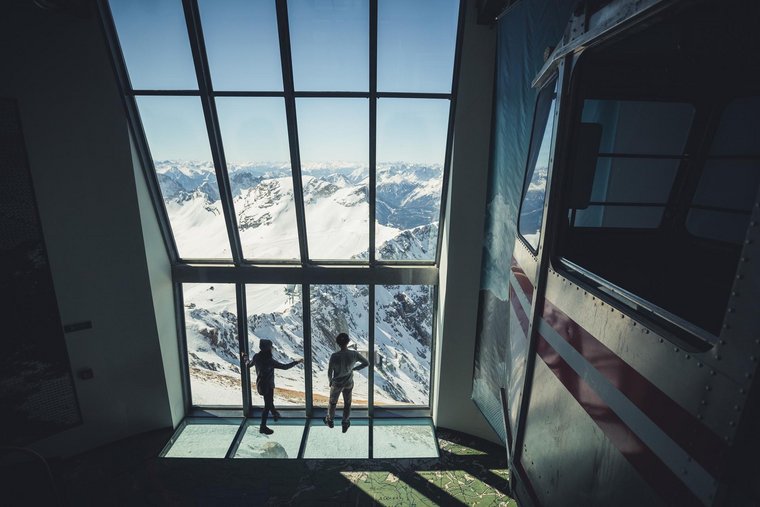 You can explore the following 4 areas in the museum
At the interactive museum "Faszination Zugspitze" you can experience Germany's highest mountain in all its variants and many of its facets, even if the weather is foggy or stormy or if it is snowing.
History and conquest of the Zugspitze
Right at the beginning the exhibition takes you on a journey through the history of the Zugspitze being opened up: from the time the Zugspitze was first climbed by Josef Naus in 1820, through the construction of the Zugspitzbahn cable car in the 1920s and the modernisations in the 1960s, to the present day. The displayed exhibits include old photos and objects from the cable car's history.
Views
After the Zugspitze has been conquered with the aid of technology, visitors stand on the mountain's summit. When you enter the old entrance hall, a floor-to-ceiling glass front opens up a unique view over the mountain world surrounding the Zugspitze.
Here the gallery with the gondola from the 1960s serves as a viewing platform for the surrounding mountains and the elevation model of the Zugspitze massif, which is one floor lower.
From here you can use an interactive control panel to select the mountain groups that can be seen from the Zugspitze and access information.
Sensory visions
A three-dimensional multimedia presentation in the cable room of the old Zugspitzbahn cable car is another key highlight in the exhibition on the Zugspitze. The projection screen covers two floors, allowing an exciting and unique form of presentation. The unique film shows incredible pictures of natural spectacles on the mountain peak, from sunrise to sunset, snow and wind, sun and rain.
Farewell to the mountain
After the impressions on the summit, you now slowly say farewell to the Zugspitze again. Starting with another video projection, past the profile of the Tiroler Zugspitzbahn cable car, you hike down towards the valley again through different altitude zones.
Further information on the interactive museum on the Zugspitze can be found here.
Would you also like to get to know the many sides of the Zugspitze during your holiday in Tyrol?
All the options on offer in the Zugspitz Arena are open to you from the Zugspitz Resort. Send a no-obligation enquiry for your holiday apartment or hotel room at the Resort.