Wintercamping in Tyrol
Camping directly in the skiing area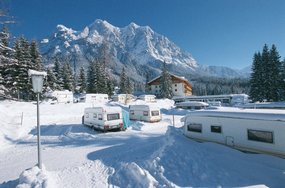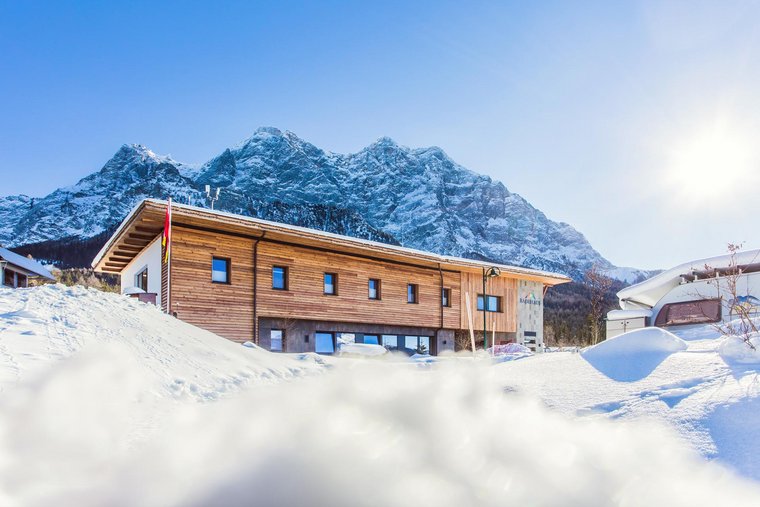 First-class winter campsite
at the foot of the Zugspitze
Welcome to the Zugspitz Resort, your ultimate destination for winter camping in Tyrol! Discover the unrivalled beauty of winter while staying at our first-class winter campsite in Tyrol. Enjoy the unique experience of winter camping in the middle of the ski resort, where you can not only enjoy the amenities of a modern campsite, but also immerse yourself in the fascinating world of skiing. Discover the enchanting magic of winter, experience the thrill of camping amidst snow-capped peaks and savour unforgettable moments in the heart of the Austrian Alps.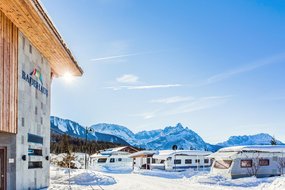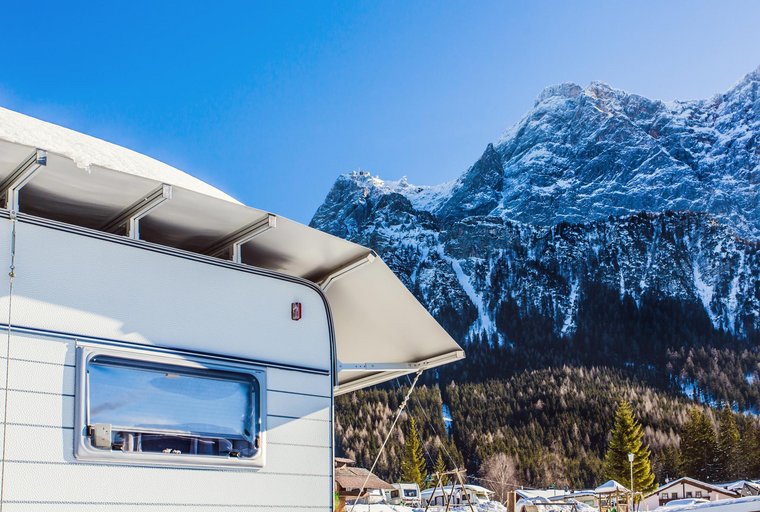 Luxurious 5-star camspite
at the Zugspitz Resort
Our 5-star winter camping offer combines the freedom of camping life with the comfort of a first-class resort. Spacious pitches, a modern bathhouse with private bathrooms and a well-equipped kitchen with dishwashers guarantee guests maximum comfort and convenience.
The Zugspitz Resort is perfect for winter camping holidays in Tyrol and offers numerous activities for outdoor enthusiasts. Enjoy skiing in one of the best ski resorts in Tyrol and explore the breathtaking slopes.
After a day of skiing fun, you can relax in our spacious wellness area. Treat yourself to a soothing massage or relax in the sauna and steam bath. Our indoor pool also offers a refreshing dip after a day on the piste. The Zugspitz Resort focuses on relaxation, recreation and water fun, with various water pools, slides and water experiences for young and old to enjoy the calming effect of the warm water and the invigorating freshness of the cool water.
The Zugspitz Resort is not only a place for camping and skiing, but also for unforgettable winter holidays with the whole family or with friends. Our modern facilities and first-class service leave nothing to be desired. Experience the magic of winter camping in Tyrol and book your next ski holiday with us at the Zugspitz Resort. Discover our exclusive camping offer for ski holidaymakers at the Zugspitzresort Tirol and experience unforgettable winter adventures in the midst of the breathtaking Alpine landscape.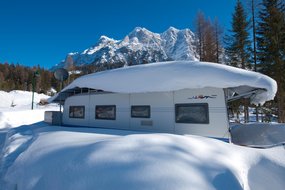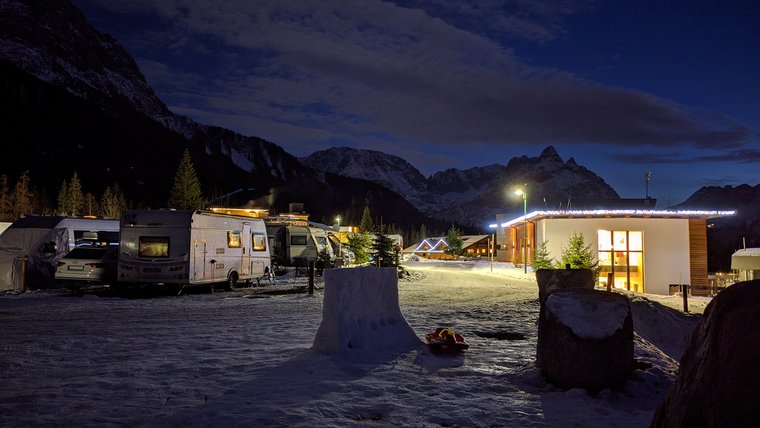 Untouched nature
in the midst of snow-covered landscapes
Winter camping in Tyrol offers a unique opportunity to experience unspoilt nature in the midst of snow-covered landscapes. This experience enables an intense connection to the winter environment and creates a feeling of independence and satisfaction. The closeness to nature, clear air and starry skies offer unforgettable experiences in Tyrol's winter splendour.
In winter, the Tiroler Zugspitz Arena presents itself as a versatile paradise for sport and recreation. From fairytale snowy landscapes to perfectly groomed pistes, cross-country ski trails and powder snow slopes to an extensive network of winter hiking trails and sports facilities - there is something for everyone here. The activity & family resort is right in the middle of it all and offers a first-class winter holiday without compromising on sport and fun.
5-star service
in the Tiroler Zugspitz Arena
Winter magic right at the foot of the Zugspitze: experience the picturesque beauty of the winter landscape around the Zugspitze resort. Winter camping in the picturesque Austrian ski resort offers unforgettable outdoor experiences in the midst of snow-covered landscapes.
Snow sports facilities: Experience luxury winter camping in Austria with first-class 5-star service and enjoy skiing, snowboarding and other winter sports in the snow-covered landscape of the Tiroler Zugspitz Arena.
Cosy atmosphere: Winter camping offers an intimate atmosphere, perfect for romantic getaways or family holidays.Families with children are particularly well looked after here. Every day there are exciting adventures for the little ones that will make their eyes light up.An ideal holiday destination for families in Tyrol.
Sauna area: The sauna area at the Zugspitz Resort offers ideal regeneration after a sporty day: enjoy the soothing warmth in various saunas, relax in the relaxation room, choose between different sweat chambers such as the Finnish sauna or the steam bath and experience refreshing cooling in the Kneipp pool or in the fresh air room.
Deluxe bathhouse: Experience pure luxury in our exclusive alpine-modern style bathhouse. It offers plenty of space and is located very close to the Comfort pitches. Numerous amenities await you here, such as private bathrooms, a well-equipped kitchen and drying rooms. Your glamping holiday will be an unforgettable camping experience, even in winter.
A thirst for adventure: Experience the adventure and challenge of camping in the cold when you're ready for winter.Experience comfortable winter camping in Tyrol with an indoor pool and immerse yourself in a world of relaxation and adventure!
Starry sky: Marvel at the impressive starry sky on clear winter nights, far away from urban light smog.
Tailor-made camping holidays with benefits: In the large Zugspitz shop you will find everything for your daily needs. Relaxation awaits you in the water and relaxation worlds with panoramic indoor pool and sauna area.For children, there are 5 water slides, a toddler pool and a 1,500 m² indoor play area with supervision.Depending on availability, you are welcome to enjoy a delicious dinner in our à la carte restaurant or relax on our sunny panoramic terrace and enjoy a delicious aperitif.