Hotel with swimming pond in Tyrol
3...2...1... and off we go into the natural bathing pond with zugspitz view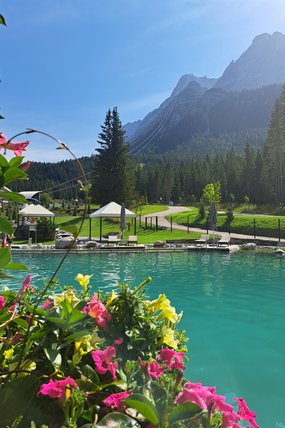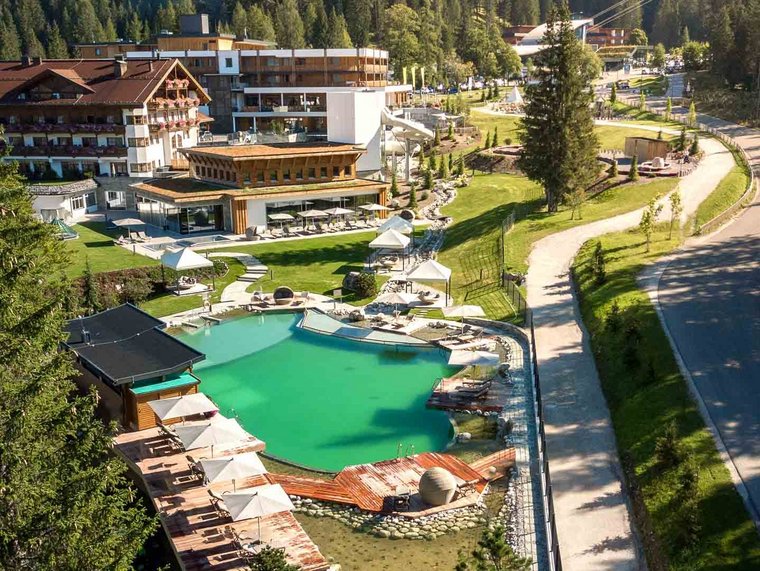 Hotel with natural bathing pond
REFRESHMENT WITH ZUGSPITZ VIEW
What could be better than taking a dip in the fresh water in the sunshine and summer temperatures? Enjoy refreshment at the foot of the Zugspitze in our newly designed swimming pond with a view of the Zugspitze. On an area of approx. 490 m² you can swim your laps in summer and the kids can have fun in the separate and secured area.
Next to our large lawn in the garden, you can make yourself comfortable on our sun loungers and let the summer sun shine on your face. This way, the holiday season is used to the fullest and the lake feeling can be enjoyed right in the resort and at the foot of the Zugspitze.
The data for the fact-checkers:
Construction time: 4 months
Completion date: End of July 2023
Swimming area: approx. 490 m²
Separate and secured area for children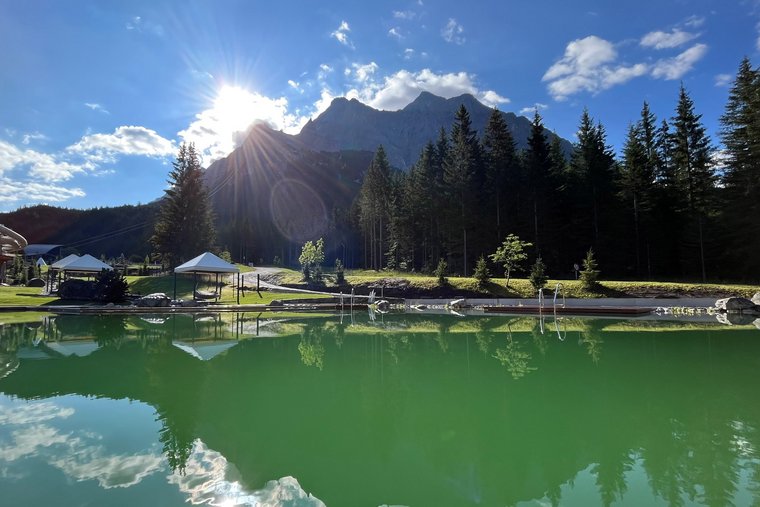 Your wellness hotel with natural bathing pond
Recharge your batteries on a wellness holiday in Tyrol
Our natural swimming pond and the garden area are also the perfect place for connoisseurs to enjoy the atmosphere to the full. Early in the morning, when it is still very quiet in our resort, the first early risers can enjoy our swimming pond all to themselves. Those looking for a cool down after a sauna session can enjoy the pleasant water in our swimming pond.
The swimming pond is a true oasis for the whole family. The individual platforms with loungers and also the garden around offer you many favourite places to feel good.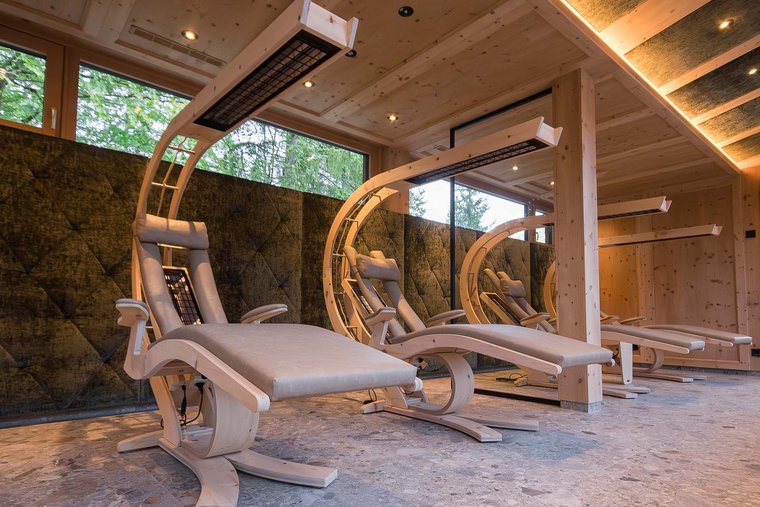 Infrared loungers with a feel-good guarantee
RELAXATION WITH A VIEW
4 infrared loungers are located next to the swimming pond for a special relaxation experience.
Lean back, let the warmth take effect on you and enjoy the view of our beautiful swimming pond and the Zugspitze. Meanwhile, the soothing infrared radiation penetrates deep into your muscles and provides a pleasant warmth that can help relieve tension and promote circulation. This not only contributes to relaxation, but also helps you to reduce stress and improve your overall health.
Don't miss the opportunity to experience our infrared loungers and enjoy a unique well-being experience right by the swimming pond.
Zugspitz Resort impressions