Cross-country skiing in Tyrol in Austria
Through the snowy landscape on cross-country trails around the Zugspitze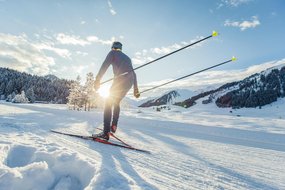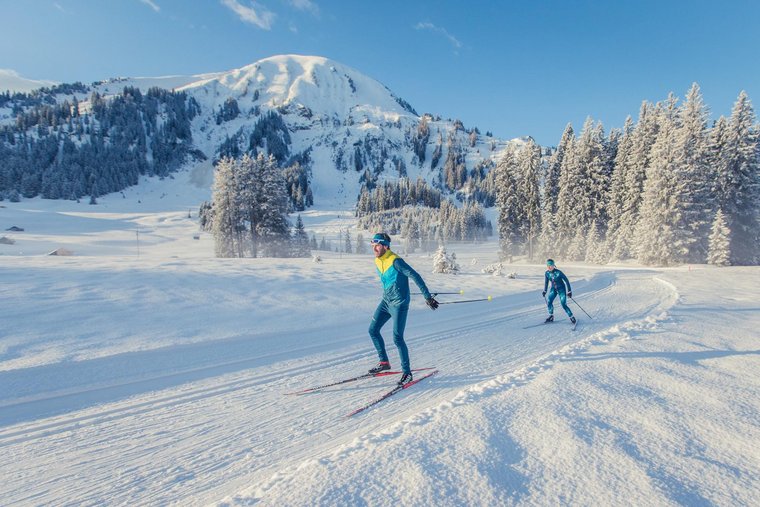 Cross-country skiing paradise on the Zugspitze in Tyrol
Welcome to winter wonderland
Cross-country skiing is the ideal combination of endurance sport and enjoying nature. And the pleasure is even greater when the trails through the picture-book alpine landscape of the Tyrolean mountains are guaranteed to be snowy. 131 kilometres of cross-country skiing trails, both skating and classic, are open to you in the Tiroler Zugspitz Arena.
Enter a fabulous network of cross-country skiing trails around our active hotel. You can join the next trail directly next to the Resort, then head up into the magically snow-covered winter landscape.
Maybe you want to be shown the right technique and improve your skills? Cross-country skiing courses are offered via the ski school 'Total'. The Tyrolean Zugspitz Arena also has the advantage of being one of the first regions in Tyrol with a cross-country trail covered in artificial snow in the valley. For the right equipment, the ski rental 'Total' is at your disposal.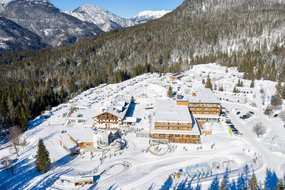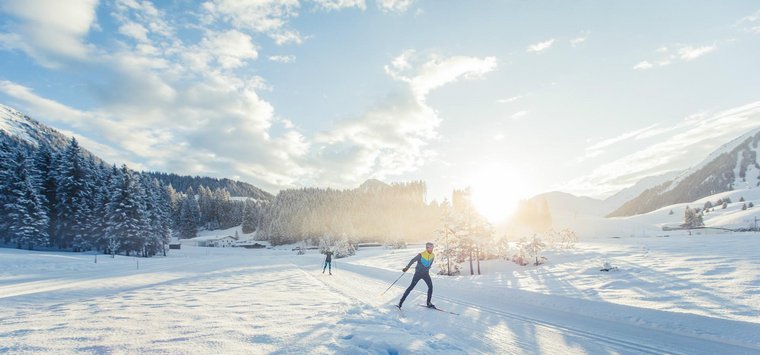 Tips for cross-country skiing in the Tyrolean Zugspitz Arena
A variety of possibilities
In Ehrwald you will find a variety of cross-country trails with difficulty levels ranging from easy, medium to difficult for skating or classic:
Ehrwald Zugspitzloipe B4 + A8 (easy - medium difficulty) 5.0 km - direct access at Zugpsitz Resort.
Lermoos - Ehrwald Golfrundloipe A3 (easy) 3.8 km
Ehrwald Moosloipe A1, A5, A6, A7 (easy) 13.9 km
Ehrwald Larch Forest Trail C3 (difficult) 2.7 km
Our cross-country skiing tip with guaranteed snow: The "Golf-Rundloipe" in Ehrwald is groomed with artificial snow and offers perfect conditions for a cross-country skiing round with a perfect view of the Zugspitze on approx. 2.7km. (Difficulty level easy) Those who prefer to enjoy a longer round are best advised to try the Zugspitz "Arena-Loipe" with a length of approx. 40km. This trail takes you through several towns in the Tyrolean Zugspitz Arena and takes you from Ehrwald to Heiterwang. (Difficulty level easy to medium)
HERE you will find an overview of all cross-country ski trails in the Tyrolean Zugspitz Arena.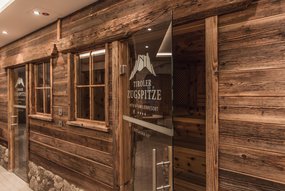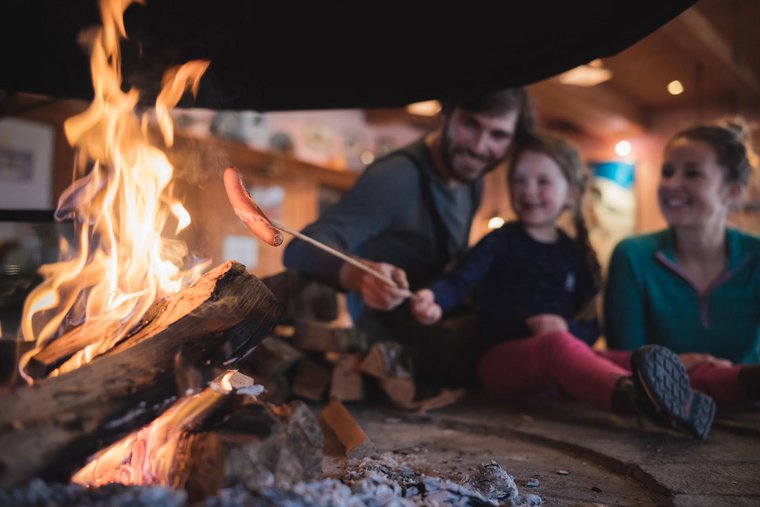 Cross-country skiing and wellness
Winter hiking, touring, wellness & Co.
After hours of fresh-air activity in the pure snowy landscape, you will find relaxation and balance back at the Resort. The vital world at the Zugspitz Resort provides a harmonious way to finish your day on holiday with a sauna landscape, heated indoor and outdoor pools, massages and treatments.
Does all of this awaken an urge for sports and enjoyment of nature in the deep snow covered Alps? Then send a no-obligation holiday enquiry now to the Zugspitz Resort, your 4-star superior resort in the Tyrolean mountains. The team will get back to you immediately with a corresponding offer.