|
Winter
CHRISTMAS IN THE MOUNTAINS
Enjoying the Christmas period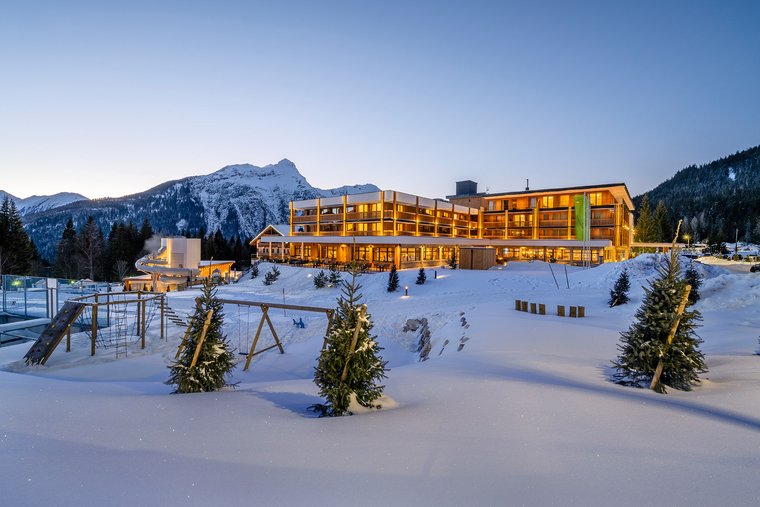 A special Christmas with the family
Recharging your batteries and enjoying variety
The first snow has fallen and covers the mountains. Gently the snowflakes fall – and at the same time the heart comes to rest. Christmas is not far off any more. The holiday season takes its course and we think about spending quality time with the children, the happy faces, the skiing and tobogganing outings, the fun we have baking – and munching - cookies, the smell of mandarins, nuts, cinnamon and cloves. A glass of hot punch after hours out in the snow. Especially in these times, it's the simple things that are particularly precious. We remember what's truly important, the dear people around us and the wonderful nature at our doorstep.
In nature and great adventures
In the mountains, the Christmas period is particularly enchanting. The mountain peaks in their white winter frock, and the snow-covered forests radiate peace. Stomping through the snow, hearing it scrunch under our feet – those are the things we remember, and that children in particular appreciate so much. They can hardly wait to run outside and build a fine snowman. With a hat and scarf and crunchy carrot for a nose.
The first turns on the piste also need some practice. The ski areas nearby Zugspitz Resort are optimally suited for this. The adventures outdoors are waiting and the time until Christmas Eve flies by. With every door is you open on the Advent calendar, the eagerly anticipated Christmas Day gets closer and closer.
Pure variety
Christmas is also a good time to reflect on the things that truly matter in life. The family, the great feeling of being surrounded by the people you love. But also our health, the value of which we have learnt to appreciate and protect more than ever. During Christmas season in the mountains, we can take the time to reflect on precisely this. To count ourselves lucky and appreciate it. In the heart of the white scenery, everything else is left behind: All the hustle and bustle, the daily grind, the many thoughts that buzz around in our heads. Pure variety – that's the magic word – can be found in abundance here in Zugspitz Resort.
Hope & confidence
During Christmas, we also think of the future full of confidence. It is a time of becoming: New things are in store; the year is coming to an end and it is on us to design this time. Especially now we keep the beautiful thoughts, because together with our loved ones we are in the best of hands. Courage, joy, composure and hope, that's what we should hold on to. There is a magic associated with this day, that touches our core. Because it's only Christmas when we carry Christmas in our hearts. And even if this year everything is different, we wish you a beautiful and Merry Christmas.
We look forward to welcoming you and your family!

Your hosts Philipp & Johannes
and the entire Zugspitz Resort Team